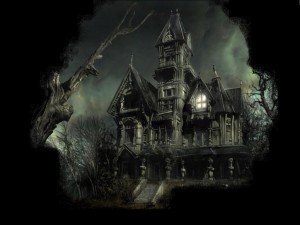 24/7/365 free online radio horror, mystery and thrillers, classic ghost stories, spine chilling tales of terror and supernatural suspense. Turn down the gas lamps, light the candles, snuggle up in the fireside chair, tune in, turn up the volume and prepare to be terrorfied …
WELCOME to Dark Towers, home of Dark Entertainments and refuge to the host-in-residence (… they won't let me out but I'm sane, I really am!) of Free Horror Radio 24/7/365, the brilliant but mildly eccentric and sometimes purple bearded Steven Dark, Sorceror of Despair, writer of gloomy poetry and dark fiction, Absinthe afficianado, connoisseur of gothic fiction and chocaholic. The Towers, as it's affectionately known, is a rambling old mansion, in anachronistic Neo-Victorian Gothic Steampunk style set in a remote area, standing (or falling down to be more accurate) in some acreage of unkempt gardens.
So, step inside and (re-)discover the beautiful age of La Belle Époque and the dark decadence of the fin de siècle that pervades every creaking floorboard and dusty nook and cranny of Dark Towers, a Macabre Museum of Morbid Melancholia and Cabinet of Creepy Collectables and Curiosities where Gothic Fiction, Tales of Terror, Dark Legends and Ghost Stories jostle with Bohemian decadence, ornate design and lasciviously luxurious fashion – all reflected in the very idiosyncratic interests and obsessions of your host which may be quite succinctly stated as 'The Mysteries of Death, the Madness of Life and the Magic of the Night' an unholy trinity that encompasses the fields of metaphysics, esoterica, erotica and the occult. In other words, the spooky, the creepy, the supernatural, the paranormal and just about everything that may go bump (or grind …!) in the night.
So come with me, leave behind the cares of the modern world, take a  step back in time to an era of grace and elegance when men were gentlemen and ladies were, well, quite naughty really. Let the ladies of the manor show you around and attend to your every need. I see you shiver with antici ………………………………………………….. pation! Let us enter the Society of Gentlemen, the servants will draw the heavy velvet drapes as we take our seats and recline in the sumptuous ox blood Chesterfield. Allow me to turn down the gas-lamps and offer you a warming glass of brandy and a fine cigar as we settle to enjoy the decidedly devilish display of distractions, divertissements, devices and decoctions displayed with all due diligence for your delight, delectation, disport and dissipation. Phew!!!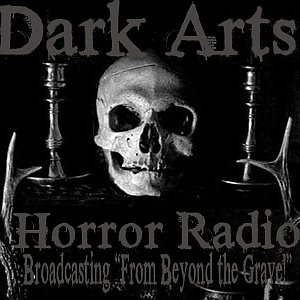 "Dark Arts Horror Radio."
Should you find yourself alone in the old pile on a dark and cold wintry night, throw another peasant on the crackling log fire, curl up in a comfy chair, tune in to Dark Arts Horror Radio and listen to a veritable variety of horrible histories, of hauntings and apparations, spine-tingling tales of terror and dialogues of demonic darklings and their dreadful deeds. Err… what was that tapping against the window pane? A tree branch bending with the wind … or …?
Dark Arts Horror Radio is kindly sponsored by 'The Society of Seven (Bohemia)'
And finally … if you enjoy your stay, please recommend my esteemed establishment of eclectic, erudite and eerie entertainments to your fiends … oops … I mean friends. Thank You.